"Direct Dial Phone Domination"
Direct Dial Domination / Fetish / Roleplay / Mock Therapy:
Look below if I show as available: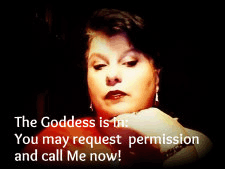 Please adhere to these few common sense rules below!
Do NOT Call Me if I show as not available or busy!

Text Me at the number above before calling and request permission to call!
Wait for me to respond! (This assures I am ready for you)

Want to assure I am available at a specific time and date then
email me to make an appointment with me (20 min. minimum – prepaid)
goddess@paymepiggy.com
Click to see what Fetishes, Kinks and Roleplays I enjoy and offer!
If you don't see your kink or fetish on the list then EMAIL me first to ask if I'd be interested in taking your call. I may have just forgotten to list it or I may be interested in exploring it. If I tell you NO – then MY DECISION is final!
You must be over the legal age of 21 years to avail yourself of my direct call / direct chat option!
If you sound as if you are under that age or behave like you are a under aged you will be required by me to proof your age to me via a clear SCAN of your ID and a Picture of you holding your ID next to your face. Both must be clear and is just a measure to adhere to the protection of minors act. It's nothing personal.
What we talk about during our calls is between us. This is for consenting mature ADULTS only!
How do you pay for your direct call session with me?
Payment can be done either with Me directly on the phone or you can enter your own payment details via this payment page here: Click here!
If you opt to use the Payment Page Option make sure you pay and then TEXT ME to let me know that payment has been made. I will check my email for verification. Once I have the payment verification in my inbox I'll let you know. Should only take a couple of minutes.
First time Callers please read this!
For the first 5 times that we interact with one another and are building trust I have put a max time cap on what I allow you to pay for. That time cap is at 20 minutes. After your 5th call without any problems you may go the full 200 minutes if you like. It's for both of our protection and security.
If you are already one of my regulars that I have known for a long time and have already build trust with, use the PHONE call option to pay for your session and I'll let you know how long you may go for those first few times. The more I know I can trust you the longer you get.
Rates:
Minimum is 10 minutes – $25.00
I charge $2.50 per minute.